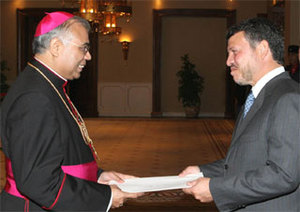 Edward Pentin makes a brief intro of the new Apostolic Nuncio to the United Nations, Archbishop Francis Assisi Chullikatt, JCD, 57, 32 years a priest and four years a bishop. The new nuncio is the first non-Italian to hold this appointment; he's also worked at the New York Mission of the Holy See and other diplomatic missions for the Apostolic See.
The
news post
of the Conference of Religious India Bulletin
May God grant the Archbishop his heart's desire as expressed in his motto, Fidei in Virtute (By the power of faith) that all will be accomplished for the True, the Beautiful, the Good and the One.