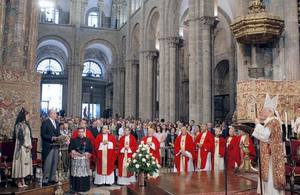 Almighty Father, by the martyrdom of Saint James You blessed the work of the early Church. May his profession of faith give us courage and his prayers bring us strength.
This year is being dedicated to Saint James the Greater (known as the Jacobean Holy Year or
Año Santo Jacobeo
)
.
The holy year dedicated to Saint James is observed when his feast falls on a Sunday, as it does today. The ceremonial opening of the Holy Year begins as it does in Rome with the opening of the Holy Door; if you read Spanish you'll find the January
ceremonial described here
.