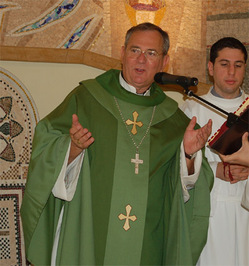 Bishop Luigi Padovese, OFM Cap, 63, was murdered today at about 1pm local time by his driver who it is claimed had psychological problems and history of violent outbreaks was supposedly a convert to Christianity but some news agencies are naming the driver a Muslim. At the moment no one is claiming political motivation for the murder.
Bishop Padovese was born at Milan, Italy and a member of the Capuchin Franciscan order. He was ordained a priest for nearly 37 years and a bishop for 5.5 years. He was the Vicar Apostolic in Anatolia.
Bishop Padovese was to meet Pope Benedict XVI with other Middle East bishops in Cyprus to receive the Instumentum laboris, the working document for the forthcoming Synod of Bishops, scheduled to meet in October.
The Minister General of the Capuchins posted this brief bio for Bishop Luigi.
The BBC story noted here and Spero News here.
May God grant mercy Bishop Luigi Padovese mercy and may his memory be eternal.