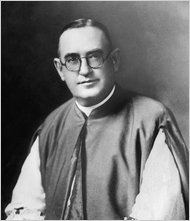 New York is famous for a lot, and saints is one of those things, contrary to a NY Times columnist Paul Vitello who today introduces us to the Church process of studying a local person's sanctity. The Brooklyn Diocese has announced that it is studying the case of sanctity for Monsignor Bernard J. Quinn.
Tonight Bishop Nicholas DiMarzio will preside at the "Oath Signing Service" for the opening inquiry for Monsignor Bernard J. Quinn's cause for canonization. The service will be held at the Church of Saint Peter Claver, Bedford-Stuyvesant, Brooklyn. The church founded by Quinn in 1922. Monsignor Paul Jervis is serving as postulator.
In New York state there are 10 possible saints under investigation and in some way official. And the study of Quinn's sanctity will join the study of the 19th century vicar general of the Diocese of New York, the Servant of God Father Felix Varela (1788-1853), whose postulator is Bishop Ottavio Cisneros, an auxiliary bishop of Brooklyn.
Quinn's story is interesting but there is got to be more to the thought that he might be able to be canonized than being a supreme advocate for racial equality –as right and necessary racial justice is for all people, not only Christians. Indeed, he was ahead of his times and had a true heart for those considered in need. We eagerly await the various documents Monsignor Jervis publishes on the life of this famous monsignor.
Read Paul Vitello's NY Times article for today for more (even with several notable errors & omissions)….