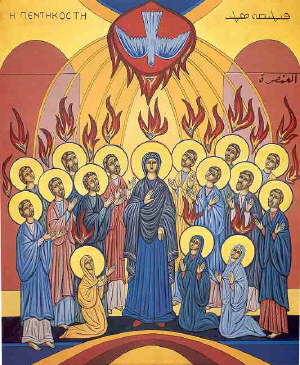 On May 9, 1897, Pope Leo XIII issued the first Encyclical Letter on the Holy Spirit. Of course from the days of the Acts of the Apostles the role of the Holy Spirit has been clearly taught.
Pope Leo XIII actually reminded the modern world of the question Saint Paul brought up in Acts 19:2 when he asked some disciples at Ephesus, "did you receive the Holy Spirit when you became believers?" They replied "No, we have not even heard that there is a Holy Spirit." Pope Leo XIII went on to remind pastors and those with care of souls that they "should remember that it is their duty to instruct their people more diligently and more fully about the Holy Spirit."
Saint Benedict also clearly saw the importance of the Holy Spirit in his Rule for Monasteries. At the end of Chapter 7 on Humility, Saint Benedict wrote:
Having, therefore, ascended all these degrees of humility, the monk will presently arrive at that love of God, which being perfect, casts out fear (1 Jn 4:18). In virtue of this love all things which at first he observed not without fear, he will now begin to keep without any effort, and as it were, naturally by force of habit, no longer from the fear of hell, but from the love of Christ, from the very habit of good and the pleasure in virtue. May the Lord be pleased to manifest all this by His Holy Spirit in His laborer now cleansed from vice and sin.

In his Chapter 49 on Lent, Saint Benedict bids us: "During these days, therefore, let us add something to the usual amount of our service, special prayers, abstinence from food and drink, that each one offer to God "with the joy of the Holy Spirit" (1 Thes 1:6).
In his Encyclical on the Holy Spirit, Pope John Paul II referred to Saint Thomas Aquinas' Summa Theologica when he said:
Man's intimate relationship with God in the Holy Spirit also enables him to understand himself, his own humanity, in a new way. Thus that image and likeness of God which man is from his very beginning is fully realized.