See! A wise and faithful virgin standing there with a lamp alight, ready now to meet her Bridegroom, coming soon with pow'r and might. Cath'rine, filled with loving fervor served the Church both night and day: As she taught us, make us faithful to the suff'ring Christ our Way.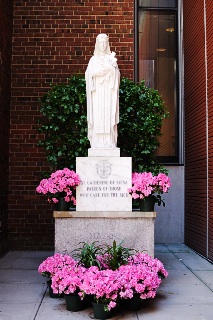 The other day I mentioned the 4th annual Mass and award for healthcare professionals who treat the sick and the dying with dignity at Saint Catherine of Siena Priory & Church (East 68th St, NYC) suggesting prayerful solidarity and physical presence, if possible. I had hoped to go myself, but too many things to do at the seminary in the final week of classes prevented me.
Archbishop Timothy M. Dolan and Brother Ignatius Perkins, OP, PhD, were honored at the event. The archbishop was the principal celebrant and homilist of the Mass and was joined by a variety of Dominicans, including Father Dominic Izzo, prior provincial of the Province of St Joseph, Father Brian Mulcahy, Izzo's vicar provincial, and Father Jordan Kelly, curate, Director of Liturgy and hospital chaplain at St Catherine Church and Priory.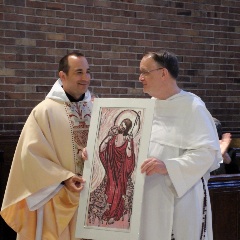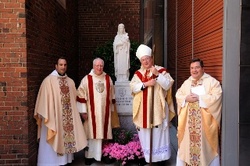 Thanks to one of the Dominican friars, Father Carlos Quijano who took some photos and graciously sent them to me are now shared here.
May Saint Dominic, Saint Catherine and Blessed James Salamone richly bless both the archbishop and Brother Ignatius, especially as Brother transitions to a new ministry for the Order of Friars Preachers and the Church.