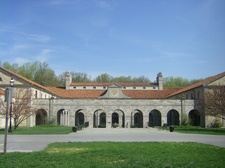 Easter week is time for spring break this year, especially after a very busy Holy Week schedule. And getting away from the ordinary was required. Like all graduate students on break, I went to visit friends at a Conventual Franciscan friary in Maryland.
One of my friends there is Friar Brad, the Father Guardian (and formation director) of the student brothers and postulants. My other friend Friar Gabriel who's originally from the New Haven, CT area and preparing to profess vows and to follow more intensely the Franciscan way of life. Besides preparing for priesthood, Gabriel and I share a number of common things in life; the important part of the visit was seeing him
in situ
and understanding his religious life as a Conventual friar (the group first founded by St Francis of Assisi). Being among the friars was restful and delightful. I wasn't there too long but I did get to Washington, DC, Georgetown, WTU and the
Shrine of St Anthony
, Ellicott City, Maryland. Sadly, the cherry blossoms were gone by the time I bounced on the scene.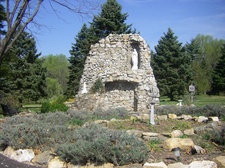 A ministry of the Conventual Franciscan Friars, the Shrine of St Anthony is a place of welcome of pilgrims come from far and near for a period of prayer. The Shrine is located in the farmlands of Howard County in the Archdiocese of Baltimore. Situated on about 200 acres, you know you are in farmland by sight and scent: the working farms dot the landscape. As good stewards of the land, the friars rent a good portion of the land to the University of Maryland for their learning. Architecturely the shrine will remind you immediately of Tuscan architecture with the tile roof, gardens, stone and wood work. I had an immediate sense of home. The friar's chapel has an exquisitely carved set of choir stalls. As a spiritual "program" the friars provide a horizon for reconciliation, healing, spiritual direction, meditation and contemplation. Outdoor shrines are dedicated to the Blessed Virgin Mary, Saint Maximillian Kolbe and the Way of the Cross all which capture the theological imagination and propel the retreatant or causal visitor to work on holiness. The shrine chapel staff provides a regular schedule of the Mass, confession, adoration of the Blessed Sacrament and Vespers. There's also Tuesday's Novena of St Anthony and 3 healing Masses a month.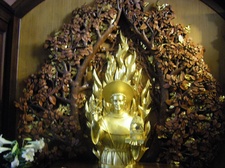 On the 800th anniversary of St Anthony's birth the friars received a gift of a reliquary of St Anthony from the Italian province of Conventual Franciscans enthroned in a walnut-tree house. Historically St Anthony lived and preached in a walnut tree house.