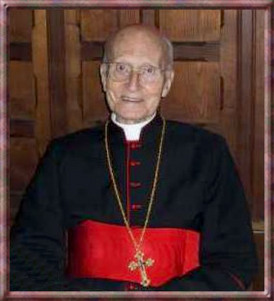 Paul Augustin Cardinal Mayer, OSB, died today just shy of his 99th birthday. He was the Church's eldest Prince.
Cardinal Mayer was born on 23 May 1911 and professed vows the Abbey of Metten on 17 May 1931; he was ordained a priest on 25 August 1935 and elected abbot of Metten on 3 November 1966. Mayer's service to the Church universal began in 1971 when he was ordained a bishop by Pope Paul VI and named secretary for the Congregation for Religious and Secular Institutes. later he was Prefect of the Congregation for Divine Worship and then Ecclesia Dei. When made a cardinal by Pope John Paul II he was given the titular of Sant'Anselmo all'Aventino.
Cardinal Mayer was a priest for 74.5 years; 38 years a bishop and 24 years a cardinal.
In a telegram to Abbot Primate Notker Wolf, Pope Benedict XVI said of Cardinal Mayer:
"he leaves the indelible memory of an industrious life spent with mildness and rectitude in coherent adherence to his vocation as a monk and pastor, full of zeal for the Gospel and always faithful to the Church. While recalling his knowledgeable commitment in the field of the liturgy and in that of university and seminaries, and especially his much appreciated service to the Holy See, first in the preparatory commission for Vatican Council II then in various dicasteries of the Roman Curia, I raise fervent prayers that the Lord may welcome this worthy brother into eternal joy and peace.
May Paul Augustin Cardinal Mayer's memory be eternal!