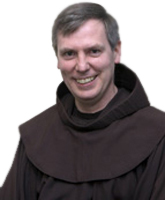 Not long ago President Obama appointed Franciscan Brother Daniel Sulmasy, MD, to the Presidential Commission for the Study of Bioethical Issues. He's universally well-received for his competence, compassion and humor. Oh, yes, the President did appoint a Catholic, a religious and a pro-life member to the commission.
Brother Daniel is a professed member of the Order of Friars Minor of the Holy Name Province and he's a friend and collaborator with Communion and Liberation. He spoke at the first annual New York Encounter in January, 2010.
Until last year he worked here in NYC until he took a job at the University of Chicago.