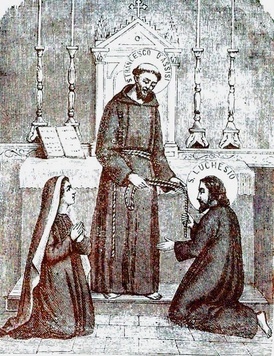 Lord God, You made blessed Luchesio whom You called to repentance illustrious in performing works of piety and charity. Through his prayers and example may we bring forth worthy fruits of penance and always abound in good works.
Blessed Luchesio (Luchesius; Lucius) died in 1242 was the first to accept the invitation of Saint Francis of Assisi to live the Rule of 1221; today we call the people living this Rule the Secular Franciscan Order, or sometimes the Third Order Laity. Lechesio was a husband, a businessman, a penitent who was dedicated to prayer, penance and works of charity. But Luchesio was not always the most pious, bible believing, Christian man in his neighborhood: he had a reputation for being greedy and ambitious; he was the 13th century equivalent to our financial and political scam artists today.
Grace set to work on Luchesio and then he encountered Saint Francis who took Luchesio's conversion another step deeper into the Christian life by giving witness to the possibility of becoming a saint by living a poor, obedient and chaste life in an effort to be holy.
May Blessed Luchesio look kindly upon the Secular Franciscan Order by asking the Lord for the gifts of faith, hope and charity and a life of humility.