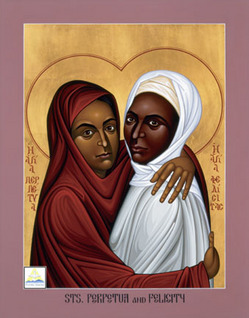 Theirs is the kingdom of heaven who despising a worldly life have attained the rewards of the kingdom, and have washed their robes in the Blood of the Lamb.
We beseech Thee, O Lord our Savior, grant us to revere with unceasing devotion the glorious victories of Thy holy Martyrs Perpetua and Felicity; may we at least honor with our lowly homage those whose praises we can not sing worthily.
Reading the Roman Martyrology (2004) today I also note that the Church remembers among others, the death of Saint Thomas Aquinas in the Cistercian monastery of Fossanova, the Martyred priests in London under Henry VIII, Blesseds John Larke, John Ireland, Germain Gardiner, Discalced Carmelite nun Saint Terese Margarita Redi, in Russia Blessed Leonid Fedorov, bishop and martyr of the Russian Byzantine Catholic Church.