"Let us all rejoice in the Lord, celebrating a festival day in honor of blessed Agatha, virgin and martyr; at whose passion the angels rejoice, and give praise to the Son of God." (Introit)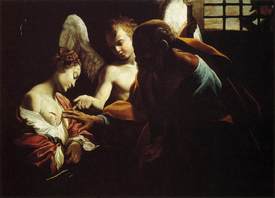 Today's feast of a young virgin martyr is the last in a series courageous women of faith over the last few months. My The heart is always moved when I hear their story of faith and suffering and meditate on their iconography. As you know, the Roman Canon (the Eucharistic prayer at Mass) mentions a number of early women martyrs and then liturgical calendar recalls four virgin-martyrs that just cannot be forgotten: Cecilia (November), Lucy (December), Agnes (January) and Agatha (February).
History tells us that Agatha was martyred during the Decian persecution in AD 254. She suffered her breasts being torn off but later healed and restored by Saint Peter. Undeterred Agatha fearlessly faced the cruelty of her tormentors. She was buried in Catania, Sicily. Agatha had a double crown: of virginity and martyrdom thus becoming a praiseworthy witness of Christ, the patron of her home city and the whole Church and the patron those living with the diseases of the breast. To her we look for divine mediation for a cure for breast cancer. Let us remember the words of the Communion antiphon (verse): "He who deigned to heal my every wound and to restore my breasts, Him I invoke as the living God."
Shortly after the death of Agatha people and the Church, in particular, recognized her holiness in a public way. Her name was entered in the Roman Canon (the first Eucharistic Prayer) very early in Christian history while Pope Symmachus built a basilica in Agatha's honor as did Saint Gregory the Great as well as a few other popes and bishops.
Agatha is remembered not only for the courage, strength and love that sustained her in times of trial, but also her single-mindedness and praise of of God alone. Her love for God was stronger than human cruelty, pain and suffering. AND this is key: a determined focus on God, for how else are healed and saved? Catholic spirituality tells us to pattern our lives on Christ and the saints. The former because he is God made flesh, our Savior, the who loves us beyond all telling; the latter because they make the gospel concrete for us –the saints tell us that a life of holiness is possible and beautiful. But this singular focus Agatha's is tough to focus on because of human frailty and personal distractions.
The Church's hagiography acknowledges today the virginity of Agatha as a good thing to imitate, but the Church also acknowledges, as Ildefonso Schuster points out, "Virginity is not, however, a universal law; it is a special vocation, to which God calls only certain chosen souls, those generous souls who with the spiritual sword of mortification voluntarily take upon themselves perfect chastity, in order to consecrate themselves body and soul to God."
Our praise is for God's bestowal of many graces on Agatha, notably healing of body. May we also be filled with the spirit of Agatha when trial stares us in the face.