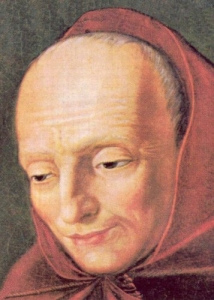 Come, you whom my Father has blessed; I was ill and you consoled me. Anything you did for one of my brothers, you did for me, says the Lord.
God our Father, You kept Brother Giles Mary of Saint Joseph faithful to Christ's pattern of poverty and humility. With his prayers to give us courage help us to move forward in unselfish charity.
Saint Giles Mary (1729-1812) lived while Napolean Bonaparte was in-charge. He served his friary as the community beggar for 53 years in humility and peace, in contradistinction to the way power was exercised in Naples at this time. The work of "community beggar" is little known today; the holder of this job was to walk the streets begging for the needs of the poor and then friars, in that order. He was known by the people as the "Consoler of Naples." He would constantly tell the people, "Love God, Love, God."
Pope Leo XIII beatified Brother Giles Mary in 1888. The Venerable Servant of God Pope John Paul canonized Blessed Giles Mary of Saint Joseph in 1996. At that time he told the Church that Brother Giles Mary represented "the humility of the Incarnation and the gratuituousness of the Eucharist."
Not a bad message….