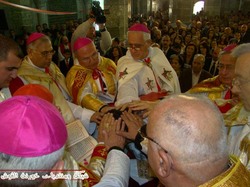 On January 8th, a new archbishop of Mossul, Iraq, was
ordained: 42 year old Emil Shimoun Nona, a priest since he was 23, succeeded Archbishop Paulos Faraj Rahho, killed on March 12, 2008.
The new archbishop was
ordained by Patriarch Emmanuel III and 9 co-consecrators according to the
rites of Chaldean Church. In 2004, the directory lists 20,600 Catholics with 10
diocesan priests and 4 religious priests. Our prayers go with Archbishop Emil
as he begins his pontificate. More pictures of the ordination rites may be seen here.