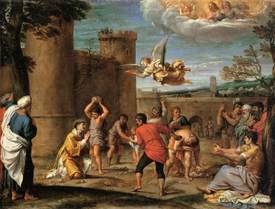 Stephen saw the heavens opened; he saw and entered; blessed is the man for whom the heavens were opened.
We beseech Thee, O Lord, grant us to imitate what we revere, so that we may learn to love also our enemies; for we celebrate the birth to immortality of him who interceded even for his persecutors with Thy So our Lord Jesus Christ.
Saint Stephen is known as a deacon and the Protomartyr (the first among all martyrs who witness to Christ). Chapters 6 and 7 of the Acts of the Apostles give us an understanding of Stephen. Saint Stephen is the patron of deacons, permanent and transitional, bricklayers and of Hungary.
A news item from the Pope on Saint Stephen and those those suffer for their faith.