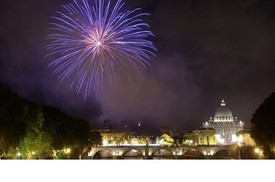 Now is the old year passed away.
Let us begin the new this day.
Praising our God, who here on earth
Kept us in quietness and mirth!
Oh, like the glad new year may we
Wholly renewed this day be,
Praising our God eternally!
Child of our love, O Jesus dear,
Thou who art still our Savior here,
Thee do we pray with all our heart:
Never more leave us, nor depart.
Save us from war, from hate, from fear;
Keep us in peace together here;
Grant us a tranquil, joyous year!
Gladly together then will we,
O highest God of heaven, to thee
Bring through the year our songs of praise,
And evermore through endless days
Here will on earth our time shall be,
And then, throughout eternity,
Singing with joyful hearts to Thee!