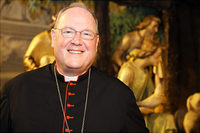 Today the NY Daily News published a letter written by Archbishop Timothy M. Dolan, archbishop of New York. I am happy that the News published this letter because it is not only a message for Christians, but people of faith, and those looking for the gift of faith. The substance of the Archbishop's letter can be summarized in this way: this is a time for peace among peoples; for love and reconciliation. And even though not all go about observing this season in the same way, we ought to respect one another!
Christians, particularly, are preparing themselves to welcome the Prince of Peace, the Wonder-Counselor, the Word made flesh, Jesus Christ, into their whole being. Others will be observing Chanuka and still others will just try to live the best they now how.
While faith-neural language like "holiday parties," "Seasons Greetings," or "holiday sale," can get annoying, even ridiculous, our attention ought not to be exclusively on how "others" are removing Jesus Christ from view at this point of the calendar. Sure, some of our brothers and sisters are frustrated by this move away from our Christian roots. I am, too. However, I am not giving more power to those who agitate to rid the world of Advent & Christmas.
So we need ask ourselves, is the frustration worth it? Is letting the secularization of our Christian culture "get to us" giving more power to the forces of the faith-neutral ideologues in our lives than need be? If so, they've won. Reasonable people of faith and good will won't think of Christ being removed from our hearts
or
families
or
the work place by anyone
but
ourselves. We can't blame others for everything. So, the Archbishop's call for a truce on all that distracts from the real meaning of Advent and the forthcoming Christmastide is well-taken.
I, for one, am going to get back to listening to "Christmas at Ephesus," the recent album of Christmas hymns recorded by the
Benedictines of Mary, Queen of the Apostles
. Perhaps I'll pray the Joyful mysteries of the rosary.