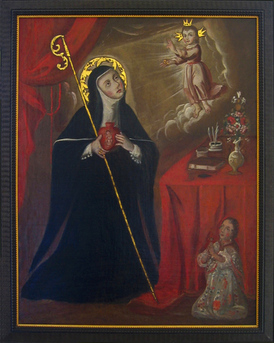 As the Church prays:
O Lord, You loved to dwell in the pure heart of Your virgin Gertrude. Through her merits and prayers please wash away the stains from our hearts so that they, too, may become worthy dwelling places for Your divine Majesty.
Even though Saint Gertrude is little known in the US, her optional memorial is observed today; in Germany her feast day is November 17th. Saint Gertrude is one of the few saints with the title "the great" as she is most known for making the devotion to the Sacred Heart of Jesus available to us. She, there is a precursor to Saint Margaret Mary and Saint Faustina. Saint Gertrude also wrote a method of prayer called the Spiritual Exercises. More on Saint Gertrude can be read
here
 and
here
.