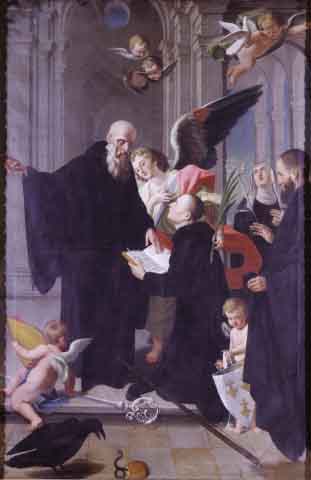 The monks of Saint Benedict's Abbey have put on their
website Father Boniface Verheyen's translation of the Rule of Saint Benedict. The monks at this Abbey have a terrific college and get a steady stream of vocations. This year they have 7 novices: three for Kansas and four for Brazil.
I would recommend reading a chapter a day or a portion of it since some chapters are longer than others. My recommendation echoes to significant voices:
Christ present!
The Christian announcement is that God became one of us and is present here,
and gathers us together into one body, and through this unity, His presence is
made perceivable. This is the heart of the Benedictine message of the
earliest times. Well, this also defines the entire message of our Movement,
and this is why we feel Benedictine history to be the history to which we
are closest.
~Monsignor Luigi Giussani, Founder of Communion and
Liberation
Familiarity with the Word, which the Benedictine Rule guarantees by
reserving much time for it in the daily schedule, will not fail to instill
serene trust, to cast aside false security and to root in the soul a vivid
sense of the total lordship of God. The monk is thus protected from convenient
or utilitarian interpretations of Scripture and brought to an ever deeper
awareness of human weakness, in which God's power shines brightly.
~Pope John
Paul II