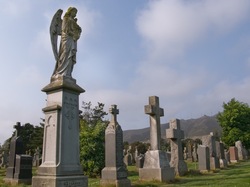 … while we visit cemeteries, let us remember that there, in
the tombs, only the mortal remains of our loved ones rest, while awaiting the
final resurrection. Their souls — as Scripture says — already "are in
the hand of God" (Wisdom 3:1). Hence, the most appropriate and effective
way to honor them is to pray for them, offering acts of faith, hope and
charity. In union with the Eucharistic sacrifice, we can intercede for their
eternal salvation, and experience the most profound communion while awaiting to
be reunited again, to enjoy forever the love that created us and redeemed us.
… how beautiful and consoling is the communion of saints! It is a
reality that infuses a different dimension to our whole life. We are never
alone! We form part of a spiritual "company" in which profound
solidarity reigns: the good of each one is for the benefit of all and, vice
versa, the common happiness is radiated in each one. It is a mystery that, in a
certain measure, we can already experience in this world, in the family, in
friendship, especially in the spiritual community of the Church. May Mary Most
Holy help us to walk swiftly on the way of sanctity and show herself a Mother
of mercy for the souls of the deceased. (Pope Benedict XVI, Angelus Address, November 2, 2009)