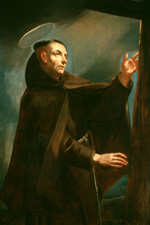 May I never boast of anything but the cross of our Lord Jesus Christ! Through it the world has been crucified to me and I to the world.
Almighty God, You were pleased to distinguish Saint Peter with the gift of remarkable penance and lofty contemplation. May his merits help us to mortify our bodies so that we may deserve to share in the gifts of heaven.
He did what we are encouraged to do today: preach on the Prophets and Wisdom books of the Bible. The Catholic encyclopedia's entry on Saint Peter may be found here and the Wiki article may be read here.