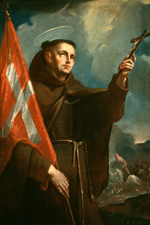 They sang, O Lord, Your holy name and praised in unison Your conquering hand.
God, our Father, You raised up in Saint John to strengthen the faithful in a time of stress. Establish us in Your safe protection and keep Your Church in lasting peace.
Poor Saint John gets associated with the migration of the swallows. How unfortunate to have your life and life's project get linked with the fowl. There is always a back story. He studied law, a civil servant, was married but the marriage was annulled with the wife's permission because as it was never consummated, a priest, a very effective preacher, healer and reformer and ecclesial servant. A disciple of Saint Bernardine of Siena and therefore had a devotion to the Holy Name of Jesus and promoted it. See the Wiki
article on
Saint John and Catholic encyclopedia article on him is
here
. A Franciscan hagiographical piece on the saint is noted
here
. Reading all this I'd say the birds didn't reveal the saint's importance.