The liturgical calendar can vary from country to country and the various religious orders may have their calendar of saints, e.g., the Benedictine, Carmelite, Dominican, Franciscan, Jesuit, etc. On the universal Roman calendar today is the optional memorial of Saint Robert Bellarmine, a Jesuit, bishop, cardinal and Doctor of the Church (see the prayer in the entry below). On the Franciscan sanctoral calendar, today is this the feast of Saint Francis' stigmata. And so I offer these Mass prayers for prayer.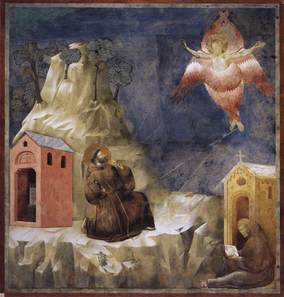 May I never boast of anything but the cross of our Lord Jesus Christ! Through it the world has been crucified to me and I to the world. (Gal. 6:14)
Almighty God, you renewed the marks of the sufferings of your Son in the body of our holy Father Francis in order to inflame our hearts with the fire of your love. Through his prayers may we be conformable to the death of your Son and thus share also in his resurrection.
Lord, may the humble and devout prayer of Saint Francis sustain us. Through this offering may we always experience within us the saving benefit of the sufferings of your Son. (Prayer over the Gifts)
Almighty God, in many ways you displayed the wondrous mystery of the cross in our holy Father Francis. May we follow the example of his devotion and find strength in constant meditation on the same cross. (Prayer after Communion)