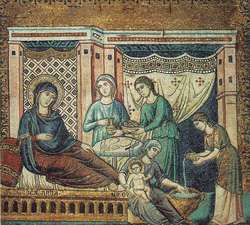 It is the nativity of the glorious Virgin Mary, sprung from the seed of Abraham, of the tribe of Juda, of the renowned family of David.
We beseech Thee, O Lord, grant to Thy servants the gift of Thy heavenly grace, that as the childbearing of the Blessed Virgin was the beginning of salvation, so the joyful festival of her nativity may bring us an increase of peace.
Today is one three days on the liturgical calendar that the church celebrates someone's birth; the other two are Jesus and John the Baptist. What we know of the birth of Mary comes from the extra-canonical gospels:
The Gospel of the Nativity of Mary
and the
Proto-evangelium of Saint James
. This is one of those feasts that came from Eastern Church, likely in Syria in the 6th century. It gained popularity that in the 7th century it was added to liturgical calendar of the Church of Rome (It was Pope Sergius I who wrote a Litany and organized a procession for the feast.) and the collects are found in various missals. Various dioceses may have some type of observance beginning in the 8th to the 10th centuries. That said, in some parts of the Church where the missals included the collects of the Assumption, this feast of Nativity of Mary is absent.