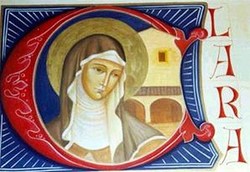 This day a brilliant star rises, for today Saint Clare, the poor handmaid of the Lord, is glorified in heaven.
Lord, we recall the memory of Saint Clare the virgin. Through her merits, and following her example, may we be strengthened in our hope and charity as we await the glorious resurrection and the enjoyment of eternal communion with you.
Let me take the opportunity to promote the Capuchin Poor Clare vocation…something good happening here.