We beseech Thee, O Lord our God, grant us to revere with unceasing devotion the glorious victories of Thy holy Martyrs Saints Margaret Clitherow, Anne Line and Margaret Ward; may we at least honor with our lowly homage those whose praises we cannot sing worthily.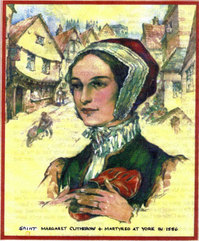 Saint Margaret Middleton was born in York in 1556, lived there all her life, and died there on 25 March 1586. At 15, she married a butcher, John Clitherow, and three years later became a Catholic. Imprisoned for her
non-attendance at church, she taught herself to read and later ran a small school for her own and her neighbours' children. Her husband remained Protestant, but allowed her to hide priests in their house. In 1586, the secret hiding places were discovered, and Margaret was put on trial. She refused to plead, for which the punishment was being crushed to death.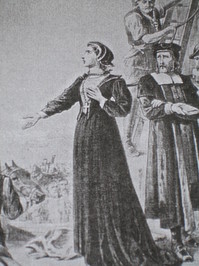 Saint Anne Height was born at Dunmow (Essex) around 1565, and was hanged at Tyburn on 27 February 1601. In her teens, she became a Catholic and was disinherited, and in 1585 married Roger Line, also a disinherited convert, who was subsequently imprisoned then exiled for his faith, leaving her destitute. She taught and embroidered, and also kept house for priests. After a large number of people had been seen gathering at her house for Mass, she was arrested, tried and condemned to death.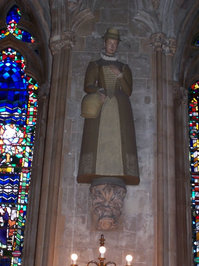 Saint Margaret Ward was born at Congleton (Cheshire), but entered into the service of a family in London. She was arrested after assisting a priest escape from prison, but refused under severe torture to reveal his hiding place or to renounce her faith. She was tried at the Old Bailey, and executed on this day in 1588. All three are remembered for their resourcefulness, for their loyalty, for their outstanding courage, and for the service they rendered the Church during dangerous times in aiding the ministry of priests. (Liturgy Office, Bishops of England and Wales) 
For more on these 3 English Martyrs see this entry.
In the Diocese of Bridgeport, those who prepare for the major seminary at Saint John Fisher Seminary, Stamford, call to mind the martyrdom of these women saints daily as their statues surround the altar.
May Saints Margaret, Anne and Margaret, pray for us!!!