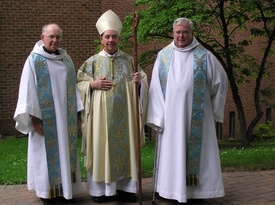 On the eve of the Year of the Priest, you can see various celebrations recognizing the witness of priestly service in dioceses, religious orders and abbeys. The Benedictine monks of Saint Mary's Abbey (Morristown, NJ) recently celebrated the 50th anniversaries of two monks. In the photo you see Abbot Giles Hayes with Reverend Fathers Rembert and Beatus. Both monks have served the Lord and the Church for a long and courageous time. Both Father Rembert and Father Beatus have witnessed to Jesus Christ and his mercy in a variety of ways that have touched the minds and hearts of many people. Let me say that I enjoyed Father Beatus' preaching and his appreciation of art through history, culture and faith. Let us pray for these two monks and for all priests.
Divine Savior Jesus Christ, who has entrusted the
whole work of your redemption, the welfare, and salvation of the world to
priests as Your representatives, through the hands of your most holy Mother and
for the sanctification of your priests and candidates for the priesthood, I
offer you this present day wholly and entirely, with all its prayers, works,
joys, sacrifices, and sorrows. Give us truly holy priests who, inflamed with
the fire of Your divine love, seek nothing but Your greater glory and the
salvation of our souls. And you, Mary, good Mother of priests, protect all
priests in the dangers of their holy vocation and, with the loving hand of a
Mother, also lead back to the Good Shepherd those poor priests who have become
unfaithful to their exalted vocation and have gone astray. Amen.
(prayer
composed by Dominican Father Peter John Cameron)