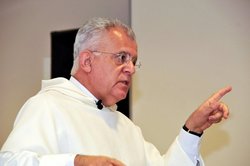 Today, the Holy Father nominated Dominican Father Joseph Augustine Di Noia, 66, as the archbishop secretary of the Congregation for Divine Worship and the Disciple of the Sacraments. He is given the archepiscopal dignity and is assigned the Titular See of Oregon City.
A native of New York, a professed member of the Order of Friars Preachers, DiNoia possesses an earned doctorate from Yale and he is an esteemed professor. He is the past editor of the Thomist (a journal of Theological research and opinion). Until now Archbishop-elect DiNoia was the under-secretary for the CDF.
Archbishop-elect Joseph Augustine DiNoia, O.P. will be ordained to the episcopacy by His Eminence, William Cardinal Levada at the Basilica Shrine of the Immaculate Conception, Washington, DC on 11 July 2009.
Blessings, my friend! May God grant you many years!