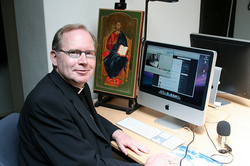 A fascinating initiative was launched the other day for the Year of the Priest on Twitter by Utrecht's Archbishop Willem Jacobus Eijk. Follow the Archbishop at FuturePriests.com.
The Archbishop's global campaign of prayer for priests is a terrific project that draws together the power of prayer and the power of Twitter.
Tweet
with the Archbishop and keep informed by following the blog! Pray for vocations! Don't forget to retweet with your intentions and prayers!