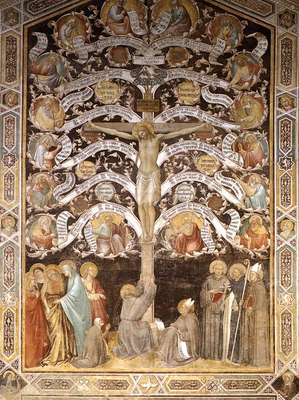 Consider, as people redeemed, who it is that hung on the Cross for you; how great and extraordinary he is whose death enlivens the dead and whose passing made heaven and earth groan and the hard stones split.
T
he Church was to be formed from the side of Christ as he slept on the Cross
, and in this way the Scripture was to be fulfilled which reads: "They shall look on him whom they pierced." To this end, God ordained that a soldier's lance should open Christ's sacred side and that blood and water should flow forth. Then, as from a fountain–Christ's inner-most heart–the price of our salvation would pour down out,
giving to the Church's sacraments the power of conferring grace and of being for those who live in Christ a drink of the living water "that gushes up for eternal life."
Rise, then, friends of Christ. Be like the dove "that builds her nest in the crevice." "Like the sparrow that finds a home" there, be watchful; set your mouth to it and "draw water from the fountain of the Savior." For this is "the spring that emerged from the center of paradise"; dividing into four streams, it enters devout hearts, and waters and fructifies the whole earth.
Run to this fountain of life and light.Be filled with desire, and in your heart's depths cry to him: "Beauty of the most high God! Pure radiance eternal light! Life shedding your radiance before your throne ever since the light before first began! Eternal and inaccessible, clear, sweet stream from a fountain hidden from mortal eyes! Bottomless depth, topless height, endless breadth, imperturbable purity!"
From this source flows the stream "that gladdens the city of God." "With exultant praise" let us sing songs to you,
for we know from experience
that "in you is the fountain of life, and in your light we shall see light."
From the reflections on The Tree of Life by Saint Bonaventure