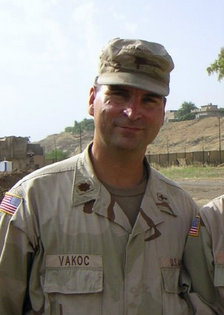 The Lord called Father H. Tim Vakoc, US Army Major, to himself on June 20th.
Father Tim was a priest of the Archdiocese of Saint Paul and some have said that he was the first US priest killed as a part of the war. He was 17 years ordained a priest, living the last 5 years of his priestly witness recovering from injuries sustained in Iraq. Those injuries were suffered on his 12th anniversary of ordination. Among Father's awards he was a recipient of the Bronze Star and the Purple Heart.
Let us pray in thanksgiving for
Father Vokac
, for the his family, friends, caregivers and the US Army.
Well done good and faithful servant.