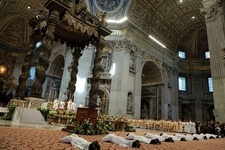 Bishop William Lori ordained two men to the diaconate today; they'll be ordained priests next year. Saturday, May 16, the Bishop ordains six men to the priesthood. These are happy days for the diocese of Bridgeport. So, I was thinking about the priesthood and what it means. While there are vast amounts of literature on nature of the priesthood, I thought Saint John Vianney would be an appropriate sounding board for today.
The
priest is not a priest for himself; he does not give himself absolution; he
does not administer the Sacraments to himself. He is not for himself, he is for
you. After God, the priest is everything. Leave a parish twenty years without
priests; they will worship beasts. If the missionary Father and I were to go
away, you would say, "What can we do in this church? there is no Mass; Our Lord
is not longer there: we may as well pray at home." When people wish to destroy
religion, they begin by attacking the priest, because where there is no longer
any priest there is no sacrifice, and where there is no longer any sacrifice
there is no religion.
Saint
John-Mary Vianney, The Little Catechism of the Cure of Ars