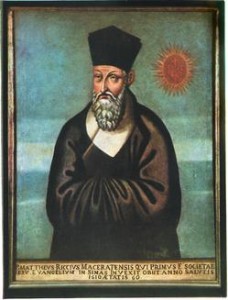 We're observing the anniversary of death of the famed Jesuit, Matteo Ricci. Benedict XVI wrote to Bishop Claudio Giuliodori of Macerata-Tolentino-Recanati-Cingoli-Treia, Italy on the occasion of a Jubilee Year commemorating the fourth centenary of the death of the Jesuit Father Matteo Ricci, who died in Beijing, China on 11 May 1610. In part the Pope said:
In considering his intense academic and spiritual activity, we cannot but remain favourably impressed by the innovative and unusual skill with which he, with full respect, approached Chinese cultural and spiritual traditions. It was, in fact, this approach that characterised his mission, which aimed to seek possible harmony between the noble and millennial Chinese civilisation and the novelty of Christianity, which is for all societies a ferment of liberation and of true renewal from within, because the Gospel, universal message of salvation, is destined for all men and women whatever the cultural and religious context to which they belong.
A biography of Father Ricci can be read here.
More about Father Ricci can be found here and here.
For those with a deeper curiosity I could recommend Jonathan D. Spence's The Memory Palace of Matteo Ricci.