Saint Anselm, Abbot, Bishop, Doctor of the Church (1033 – 1109)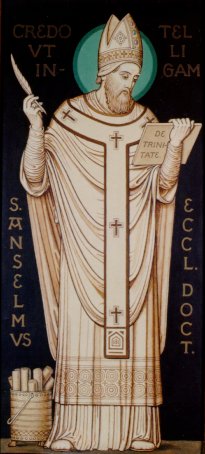 This year marks the ninth centenary of the death of Saint Anselm, often referred to as the "Father of Scholasticism," though he is one among many who are said to be the "Father of Scholasticism," a philosophical movement which sought to express religious dogma within a philosophical framework dependent on the Fathers of the Church, especially Saint Augustine of Hippo, and the teaching of Aristotle. He relied on reason to argue for the existence of God and other theological tenets.
Three of Anselm's best known works of more than 10 known works, On Divine Being (Monologion), Why God Became Man (Cur Deus Homo) and the treatise on the Knowledge of the Existence of God (the Proslogion) continue to keep his name alive in philosophical and theological circles.
Born in Aosta, Italy, he traveled to France for his education where he eventually became a monk at the newly founded monastery of Bec in Normandy. In 1063 he was appointed Prior of the monastery. He was profoundly influenced by the charismatic scholar and abbot, Lanfranc, who was to become the close friend of the Norman Duke, William, famous for his conquest of England in 1066. Lanfranc was appointed archbishop of the primatial See of Canterbury, continuing to be the trusted advisor of the king and pursuing a policy of reforming the Church in England along Norman lines through ecclesiastical administration, liturgical ritual, and Romanesque architecture.
Anselm, after his election as abbot of Bec (1078), was able to use his long tenure in office for scholarly and spiritual pursuits, a life to which he was ideally suited. Under Anselm Bec as an intellectual center expanded. Following Lanfranc's death, William II nominated Anselm to the See of Canterbury (1093), where, however, his temperament and continual conflicts with the Anglo-Norman kings caused him bitter disappointment and exile.
We beseech Thee, O Lord, graciously enlighten Thy Church, that being illumined by the teaching of blessed Anselm, Thy Confessor and Bishop, she may attain to eternal gifts.