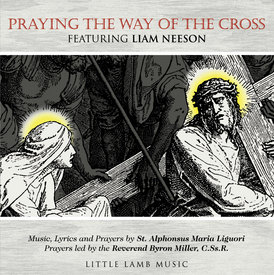 Liam Neeson, one of the leading international motion picture actors of our day, reads the Introduction, written by Saint Alphonsus Maria Liguori, and the 14 Stations of the Cross. The 14 Stations and prayers are taken from the classic text, The Way of the Cross according to the Method of St. Alphonsus Liguori, the great 18th century Italian saint, doctor of the Church and founder of the Redemptorists. This text is used by Catholics around the world to retrace the footsteps of Jesus Christ on Good Friday.
"I had heard about the Redemptorists and their missionary work in the Amazon rain forest of Brazil and in the slums of Lagos and Ibadan, Nigeria," Liam Neeson said. "I was moved to help because the Redemptorists are living the Gospel message in some of the poorest parts of the world, offering hope to families who have been forgotten or abandoned."
The Very Reverend Father Thomas D. Picton, provincial superior of the Denver Province said: "It combines the unmistakable voice of Liam Neeson, the glorious hymns of our founder, Saint Alphonsus Liguori (first time being heard in the U.S.), and the brilliant orchestration done by Ray Herrmann, a Grammy-award winner and arguably the world's finest Catholic recording artist."
Ray Herrmann, co-founder of Little Lamb Music, has spent the last 20 years playing with and arranging music for some of the biggest names in American music, including: Diana Ross, Chicago, Bob Dylan, Santana, LeeAnn Rimes, Stevie Wonder, George Benson and Herbie Hancock. Ray is also in the house band on the hit television show, American Idol.
Proceeds from the sale of the CD support the work of the Redemptorist missions in Brazil and Nigeria .
To order the CD go to: www.littlelambmusic.com or call (800) 231-1207