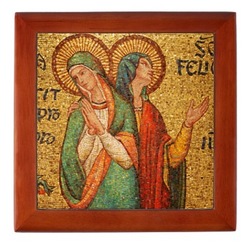 Theirs is the kingdom of heaven who despising a worldly life have attained the rewards of the kingdom, and have washed their robes in the Blood of the Lamb.
We beseech You, O Lord our Savior, grant us to revere with unceasing devotion the glorious victories of Your holy Martyrs Perpetua and Felicity; may we at least honor with lowly homage those whose praises we can not sing worthily.
Read more on these third century Martyrs of North Africa. Today's saints have been honored by the Church since the fourth century in Rome. History tells us that Saint Perpetua was of Carthaginian nobility and Saint Felicity was a slave girl but both were equal in their Christian faith. The Roman martyrology says that they were sent to their deaths because of their Christian faith in A.D. 203. Since the wild beasts would not eat them they were put to death by the sword. They are both mentioned in the Roman Canon of the Mass.