The Pope's visit to the monastery founded by Saint Frances of Rome today was a spectacular example of pastoral solicitude for the sisters and for their vocation. The Pope illustrated his love for the Benedictine charism and value today. Read and watch the video clip: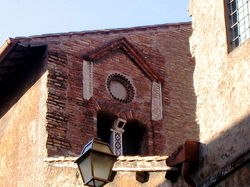 The spiritual dimension of life must be brought back to the centre of civil coexistence. Benedict XVI said this during his visit to the historical monastery of Saint Francesca Romana in Tor de Specchi near the Campidoglio.
The Oblate sisters' community of contemplative life, in close connection with the Olivetani monks, is called to be society's "spiritual lung", in order maintain the reference to God and to His plan of salvation. The Pope noted that the convent, which was founded by St. Francesca Romana, is characterized by a singular equilibrium between religious and secular life.
Rome currently needs women who, following the saint's example, are capable of committing themselves to God and neighbour, capable of obeying the Church and assisting its pastors with their propositions, after being matured in dialogue with Christ and in concrete experience of charity. (courtesy of H2O News)
Contact the oblates:
Monastero delle Oblate di Santa Francesca Romana (Tor de' Specchi)
Via del Teatro Marcello, 32
Roma, Italia
Tel. 011.39.06.679.3565
e-mail: oblate@tordespecchi.it