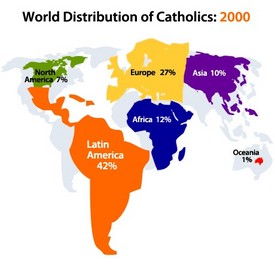 According to the recently published Annuario Pontificio, the papal yearbook we see the number of Catholics in the world has increased by 1.4%, with particularly in Oceania and Africa. Vocations to the priesthood grew overall by 0.4%, though they decreased in Europe.


The Press Office of the Holy See stated that the worldwide Catholic Church included 1.147 billion people in 2007, a 16 million increase since 2006, and compared with the map to the right, the current numbers are significant. The numbers of baptized grew significantly in Oceania and Africa by 4.7% and 3%, respectively. Also positive was the growth made in Asia (+1.7%) and Europe (+0.8%). While North and South American Catholics decreased by 0.1%, they still represent half of all Catholics on the planet.
One notices moderate growth in the number of priests which according to those in the know, this trend began in 2000 after more than 20 years of steady losses. The year ending in 2007 saw the presbyterate rise from 405,000 to 408,000. Africa and Asia reported strong numbers, whereas numbers were stable in North and South America. Of course, the continents of Europe and Oceania reported significant declines during the same period. Looking more globally at the situation of vocations to the priesthood, the numbers increased by 0.4%, approaching 116,000. Africa and Asia grew in priestly vocations, while Europe and America registered respective reductions of 2.1% and 1%.
The statistical information is based on gather stats from 2007.
The BBC has an article on the increase of Catholic priests, read about it here.