Do you ever think of the connection between holiness and priests? I am NOT suggesting a vague academic consideration of the topic but I am wondering about it in the concrete. Every now and again the notion –perhaps I can even say vocation– of spiritual paternity and maternity arises in me and I am not exactly sure where the idea comes from or where it is going. The matter of the holiness of priests –indeed, of all people, concerns me, but right now I am thinking specifically of the ordained's holiness because it is a real need in our ecclesial life together today.
Friends, laity and clergy alike who work as spiritual fathers and mothers, live a beautiful vocation in walking spiritually with those who are ordained. They become familiar with the personal narratives of sin and grace, they hear about the presence of the Lord in daily living, and they know the struggles of faith, hope and charity. In a word, spiritual fathers and mothers see the reality of Divine intimacy at work.
So, let me say a very brief word about the idea of spiritual maternity for priests. Actually, let me point you in the direction of the spiritual maternity of Catherine Doherty, a well known mystic of the 20th century who had a special love for the priesthood and the enduring need of priests to be holy. Doherty said once, "I wish I could tell every priest that I share his pain and joy, whatever it may be, because I love the priesthood passionately." But there are others as Cardinal Hummes indicates in a recent letter (see below), who have been called to this vocation.
What I am interested is real holiness, not fake spiritual sentimentality, not some vague "connection" with the divinity. Rather, holiness is a way of life centered on reality as it is given and lived in the light and tension of the Gospel, the sacraments and the Church.
Having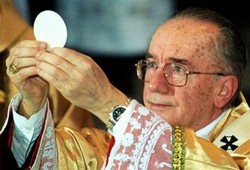 concern for priests, Claudio Cardinal Hummes wrote in 2007 to the world's bishops asking for help in establishing in their dioceses places of eucharistic adoration and the development of a spiritual work that looks to women to assist in flourishing of holiness in the priesthood. That letter bears greater attention and so I have linked it here.
Cardinal Hummes says many memorable things in his letter on spiritual maternity but important item that needs to rememmbered is the following:
According to the constant content of Sacred Tradition, the mystery and reality of the Church cannot be reduced to the hierarchical structure, the liturgy, the sacraments, and juridical ordinances. In fact, the intimate nature of the Church and the origin of its sanctifying efficacy must be found first in a mystical union with Christ.
For more information read my friend Father Mark's recent essay on the subject.