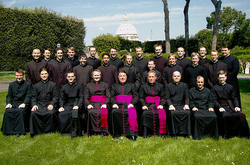 "For all of us, the seminary was a decisive time of discernment and preparation," he said. "There, in profound dialogue with Christ, our desire to be deeply rooted in him was strengthened. In those years, we learned to see the Church as our own home, accompanied by Mary, the Mother of Jesus and our most loving Mother, always obedient to the will of God. […]
"To have priests according to the heart of Christ, confidence must be placed in the action of the Holy Spirit, more than in human strategies and calculations. […] On the other hand, the need for priests to address the challenges of today's world must not lead to the abandonment of a painstaking discernment of the candidates, or the neglect of necessary –even rigorous– demands, so that their formative process helps to make them exemplary priests.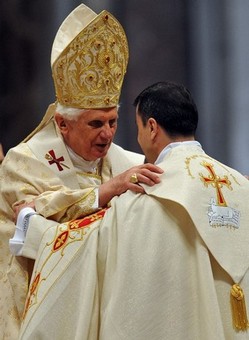 "Today more than ever, it is necessary that seminarians, with the right intention and beyond any other interest, aspire to the priesthood moved solely by the will to be genuine disciples and missionaries of Jesus Christ who, in communion with his bishops, make him present with their ministry and witness of life. Of great importance for this is being very attentive to their human, spiritual, intellectual and pastoral formation, as well as the adequate choice of their formators and professors, who must be outstanding in their academic capacity, their priestly spirit and their fidelity to the Church, so that they can instill in the young men what the People of God need and expect from their pastors.
(Pope Benedict speaking to the plenary assembly of the Pontifical Commission for Latin America 20 Feb 2009)
The video clip of the Pope's speech is found here.