Life in a monastery is never boring. Living our lives seriously hardly leaves room for idleness. The abbey welcomes Christ in the visitors, including vocation guests, we receive. The presence of guests reminds us that we Christ is among us. And I am of the opinion that a religious house should rarely be without guests. The round of prayer, work, reading, dining (feeding is crude, so we politely dine) and private time is a lot. At the moment, time for self is not as plentiful as I want or need especially since I have to prepare for teaching and I want to do some study.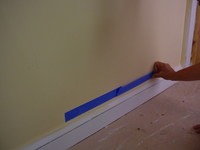 One of my least favorite domestic chores is painting. Actually, I hate painting (probably because my father never really liked it either) and I only initiate the task when it is needed, or asked. I'd rather pay professionals to do the job of preparing the walls, painting and cleaning up. Here at Mary, Help of Christians (Belmont) Abbey I've been asked along with two others to paint a few hallways and a room. The companions are fine to work with, though one drives the work, getting mucked up with paint isn't my idea of fun. BUT the walls do look good and the abbot and other monks are pleased. Happy to oblige. I am just hoping that we don't have to paint the very long outside porch. The passage from Saint Paul comes to mind: if you don't work, you don't eat. Hmmmm, I like to eat….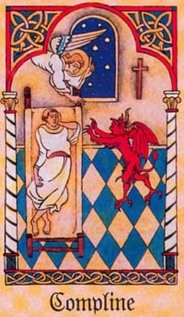 Compline is my favorite of all in the Divine Office. Here at the abbey it's been relegated to the privacy of the monk's cell. I asked the abbot if I could revive the practice of praying Compline as a group; he agreed that it would be a good thing but it would be optional. Last week we started saying Compline at and we've had some monks come…a nice surprise. I find praying Compline, as the Church does, a wonderful way to conclude the day's activity as God to be with us as we wait in expectation of His coming. The Lord is our maker and we beg for mercy.
Wednesdays is community night. Meaning, after Vespers we gather in the recreation room to enjoy each other's company for an hour or so. Usually there is beer and munchies –nothing elaborate. Since we have a recreation period once a week, this is a good time to come together. There are other opportunities to share life with fellow monks during the day but a time set aside is essential.
The other day I mentioned the rite of Anointing for Father John. He went to the doctor's yesterday and today he was walking the hall. These are good signs that Grace is operative and we are grateful. Father's health will not get better but seeing him smiling, walking and talking are fine signs that the Lord is with us, and with our senior monk and friend.
PAX