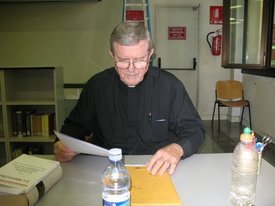 Many are familiar with the name of the great liturgical scholar the Right Reverend Archimandrite Robert Francis Taft because they actually know him (and thus love him), or know his very extensive list of publications (more than 850) on matters pertaining to liturgical history or because of an experience him in the classroom or merely because they heard of him. Whatever the case may be this blog entry is not panegyric of Father Robert Taft but a way of encouraging you to listen to his keynote address on the point of liturgy AND the enduring influence of the late Father Alexander Schmemann at the symposium noted below: it will shape anew your thinking on the Church's liturgical life.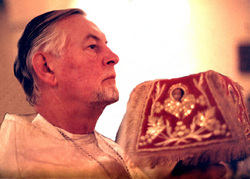 Saint Vladimir's Orthodox Theological Seminary held an international liturgical symposium honoring one of the best of liturgical scholars to walk the earth 29-31 January 2009: "The Past and Future of Liturgical Theology: Celebrating the Legacy of Father Alexander Schmemann."
The talks are thus far available in podcasts noted here.
The other speakers at the conference:
His Grace the Rt. Rev. Maxim [Vasiljevic], Bishop of the Western Diocese of the Serbian Orthodox Church in North and South America; "Opening Episcopal Remarks"
Dr. Michael Aune, Dean of the Faculty, Dean of the Chapel, Professor of Liturgical and Historical Studies at Pacific Lutheran Seminary, and Core Doctoral Faculty in Liturgical Studies at General Theological Union; "The Current State of Liturgical Theology: A Plurality of Particularities"
The Rt. Rev. Archimandrite Job [Getcha], former Dean of St. Sergius Theological Institute, Paris; "From Master to Disciple: The Notion of 'Liturgical Theology' in Father Kiprian Kern and Father Alexander Schmemann"
Keynote by The Rt. Rev. Archimandrite Robert Taft, SJ; "The Liturgical Enterprise Twenty-five Years after Alexander Schmemann [1921-1983]: The Man and His Heritage"
Dr. Bryan D. Spinks, Professor of Liturgical Studies, Yale Divinity School; "From Liturgical Theology to Liturgical Theologies: Schmemann's Legacy in Western Churches"
The Rev. Dr. Stephanos Alexopoulos, Professor at the International Center for Hellenic and Mediterranean Studies, Athens, Greece; "Did the Work of Father Alexander Schmemann Influence Modern Greek Theological Thought? A Preliminary Assessment"
Sr. Dr. Vassa Larin, nun of the Russian Orthodox Church Abroad; currently teaching Liturgical Studies at the University of Vienna; "Father Alexander Schmemann and Monasticism"
Dr. David W. Fagerberg, Associate Professor in the Department of Theology, University of Notre Dame; "The Cost of Understanding Schmemann, in the West"
The Most Blessed Jonah [Paffhausen], Archbishop of Washington and New York and Metropolitan of All America and Canada, Orthodox Church in America; "Closing Episcopal Remarks."