Today, I began a phase of my journey in discernment: life for a few months at a Benedictine abbey. I arrived today from New Haven, Connecticut, leaving 50 degree weather and arriving in 70 degrees. What a nice change from the New England winter; no snow here in Charlotte.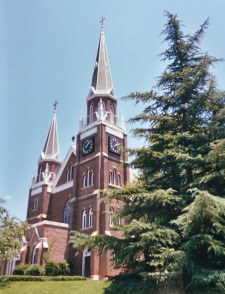 Belmont Abbey is a small group of Benedictine monks who follow the Rule of Saint Benedict. There 17 solemnly professed monks with 5 in some stage of formation. The age range is 24 to 88. The head of the monastery is Abbot Placid and the Prior is Father David.
The Abbey was founded in 1876 by Archabbot Boniface Wimmer, the founder of monasticism in the USA, who sent monks from Saint Vincent Archabbey, Latrobe, PA, to Charlotte. While the abbey is typically called "Belmont" after the town in which it's situated, the religious title of the abbey is "Mary, Help of Christians", sometimes just called Maryhelp; the feast day we observe is May 24.
The monks run a small liberal arts college called Belmont Abbey College.
A quick note on schedule:
7:00  – Morning Prayer
7:30 – breakfast in silence
8:30 – 11:30 work, study, lectio, prayer (whatever you're assigned)
11:45 – Midday Prayer
Noon – lunch followed by work
5:00 – The Sacrifice of the Mass
5:45 – Dinner in silence for most of the meal with readings from the holy Rule & a book
7:00 – Vespers
Compline is in private for most of the monks but some of the formation monks pray Compline together at 9:30.
The Abbey Basilica of Mary Help of Christians is central to the life of the monks, friends, visitors and the college community. The architecture is German Gothic-Revival. The church was the largest Catholic church in the state at the time of its construction. The monks of the abbey did much of the construction work themselves (with Brother Gilbert Koberzynski crafting the ceiling in the style of a sailing vessel).The interior of the church was renovated in 1964-1965.
The windows were designed and executed by the Royal Bavarian Establishment of Francis Mayer and Company (Munich). The windows were displayed at the Columbian Exhibition, the World's Fair of 1892 winning four gold medals. The abbey church was the cathedral from 1910-1977 and it was elevated to the rank of a Minor Basilica on July 27, 1998. The Basilica has been on the National Register of Historic Places since 1973.
Let us pray for each other.