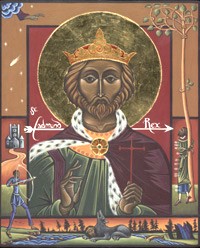 We have heard of many wonders in the popular talk about the holy Edmund, which we will not set down here in writing; but every one knows them. By this saint is it manifest and by others like him, that Almighty God can raise man again, in the day of judgment, incorruptible from the earth, He who preserves Edmund whole in his body until the great day, though he was made of earth. Worthy is the place for the sake of the venerable saint that men should venerate it and well provide it with God's pure servants, to Christ's service, because the saint is greater than men may imagine.
The English nation is not without the Lord's saints, since in England lie such saints as this holy king, and the blessed Cuthbert, and saint Æthelthryth in Ely, and also her sister, incorrupt in body, for the confirmation of the faith. There are also many other saints among the English who work many miracles, as is widely known, to the praise of the Almighty in whom they believed. Christ shows to men, through His illustrious saints, that He is Almighty God who causes such wonders… No wonders are wrought at their sepulchres because they believe not in the living Christ; but Christ manifests to men where the true faith is, since He works such miracles by His saints widely throughout the earth; wherefore to Him be Glory ever with His Heavenly Father, and with the Holy Ghost, for ever and ever. Amen. (an excerpt from Aelfric's Life of Saint Edmund)
A brief biography can be read here and here.