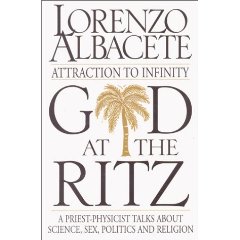 God at the Ritz: Attraction to Infinity: A Priest-Physicist Talks about Science, Sex, Politics and Religion by Lorenzo Albacete
Trained as a physicist and a Roman Catholic priest, Albacete has written a fine book of short reflections on religion, its place in our world, its at-times troubled relationship to its own truth claims, the meaning of suffering, and the experience of pluralism and liberalism. Albacete cites the thought of John Paul II and Cardinal Ratzinger, to be sure, but he also engages with Germaine Greer, Federico Garcia Lorca, and Paul Ricoeur. Albacete's profound sense of the religious leads him not to dogma but to a series of sensitively framed, sincere questions that should catch the attention and empathy of many readers.

Monsignor Lorenzo Albacete, National Director, Communion and Liberation; Chairman, Board of Advisors, Crossroads Cultural Center; former President, Catholic University of Puerto Rico; former Professor of Theology, St. Joseph's Seminary, New York.
Wednesday, November 12th, 6:00-7:30pm
Columbia University
Davis Auditorium, Schapiro Center (116th & Broadway)
Read Christopher West's review of God at the Ritz