Biological Evolution: Facts and Theories: A Critical Appraisal 150 Years After
"The Origin of Species"
In September I announced this conference devoted to a critical review of Charles Darwin's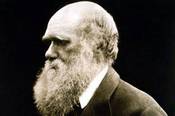 work. You can get more information by visiting the conference website or by email: evolution@unigre.it.
The Rome conference looks very promising with top professors collaborating in evaluating this famous work.
The conference is sponsored by the Pontifical Gregorian University in colloaboration with University of Notre Dame, and with the high patronage of the Pontifical Council for Culture with a grant of monies from the Templeton Foundation and the Associazione Scienza e Fede.