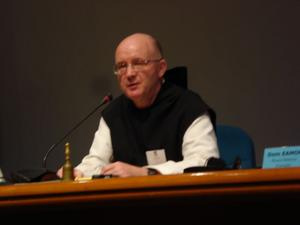 Dom Eamon Fitzgerald, Abbot of Mount Melleray (County Waterford, Ireland) has been canonically and regularly elected as abbot general of the Order of Cistercians of the Strict Observance. In 2007, Dom Eamon was re-elected for his 4th 6-year term abbot of his abbey; the new abbot general was born in 1945. Dom Eamon succeeds Dom Bernardo who has served for the last 18 years as abbot general.
According to the statistics of January 1, 2008, there are 2,185 monks and 1,782 nuns, for a total of 3,967 persons living in 47 different countries. In context the Trappists are canonically speaking, a monastic Congregation which at present unites 97 monasteries of monks and 72 of nuns.
May God grant many fruitful years to Abbot Eamon!