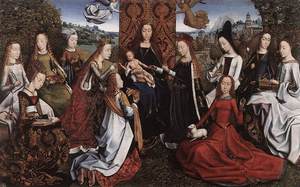 A blessed feast of Mary to you!
Today is the feast of the Holy Name of Mary. It has a feast of the Church since 1683 when Pope Innocent XI made it a universal feast. It was removed from the Church's liturgical memory after Vatican II but was restored when Pope John Paul II published the Third Typical Edition of the Roman Missal in 2002. His tremendous love for the Mother of God is a significant benchmark for all of us.
Pope Benedict XVI said the following about Mary's holy name at Abbey of Heiligenkreuz (9 September 2007):
Let us say a few words about this Name which means "Star of the Sea" and is so appropriate to the Virgin Mother. She — I tell you — is that splendid and wondrous star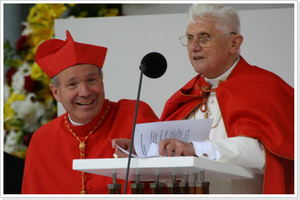 suspended as if by necessity over this great wide sea, radiant with merit and brilliant in example. O you, whoever you are, who feel that in the tidal wave of this world you are nearer to being tossed about among the squalls and gales than treading on dry land: if you do not want to founder in the tempest, do not avert your eyes from the brightness of this star. When the wind of temptation blows up within you, when you strike upon the rock of tribulation, gaze up at this star, call out to Mary.
Whether you are being tossed about by the waves of pride or ambition, or slander or jealousy, gaze up at this star, call out to Mary. When rage or greed or fleshly desires are battering the skiff of your soul, gaze up at Mary. When the immensity of your sins weighs you down and you are bewildered by the loathsomeness of your conscience, when the terrifying thought of judgment appalls you and you begin to founder in the gulf of sadness and despair, think of Mary. In dangers, in hardships, in every doubt, think of Mary, call out to Mary. Keep her in your mouth, keep her in your heart. Follow the example of her life, and you will obtain the favour of her prayer. Following her, you will never go astray.

Asking her help, you will never despair. Keeping her in your thoughts, you will never wander away. With your hand in hers, you will never stumble. With her protecting you, you will not be afraid. With her leading you, you will never tire. Her kindness will see you through to the end. Then you will know by your own experience how true it is that the Virgin's Name was Mary.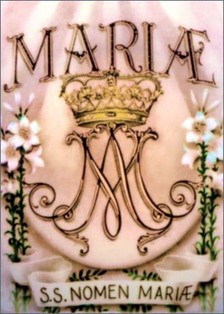 Let us pray.
Grant, we beseech you, almighty God,
that to all who are celebrating her glorious name, the Blessed Virgin Mary herself may dispense the benefits of your mercy.