The example of Saint Jerome, priest, confessor of the faith and doctor of the Church lived ca. 341-420. He lived a simple life dedicated to the Church; he made the sacred Scriptures accessible to the people by translating them into Latin and writing commentaries. Saint Jerome was a colorful character and concerned for the welfare of others.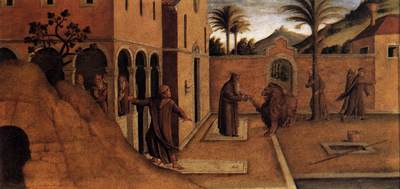 O God,
Who for the expounding of the Holy Scriptures
did raise up in Thy Church the great and holy Doctor Jerome;
we beseech Thee, grant that by his intercession and merits we may,
by Thy help, be enabled to practice what he taught us both by word and by work.
Given that today is a feast day of a great saint dedicated to knowing and living the Scriptures, an excerpt from the work, All About the Bible, seems useful for our meditation today.
Man Shares with God
Making all this known to man was not the work of a moment, from our point of view. God had made man to His own image and likeness. This means that man shares with God the power to know himself and others. Man shares with God the freedom to embrace that which is good. Man can even know the infinite goodness Itself which is God; he has the power to make his whole being center on that goodness of God – to bring about his own human perfection and the perfection of those with whom he lives. 
But man had so distorted this image of God as to seek happiness where there is only misery, peace where there is only disturbance, security where there is only danger. But God is not so weak that He would have to start over with a new human race. God is not so petty as simply to seek revenge on the man who betrayed Him. Because man had made himself an ugly distortion of the image of God, God came into man's world as Savior to bring beauty out of ugliness. In this is seen the power of God; in this also is known the love of God who can never cease to pursue this fallen man so as to give him greater blessings than those he had thrown away. When God took a hand in our world, He still respected that image of Himself in man that man had distorted. Man doesn't change overnight from an infant into an adult. He doesn't learn all things suddenly in a flash of light. This is not the way God made us. In coming to man as his Savior, God dealt with man as God Himself had made him – a being who learns step by step, a being who learns from others and from the world about him, a being who can do only as much as he knows how to do.
To bring to the world the knowledge of the astonishing love and goodness of God was a long process. Two thousand years passed before the full work of God as Savior was established in our world as a living thing. The central point of this work was the coming of Jesus of Nazareth, One who was wholly and completely a man like us in all save sin, and yet true God from all eternity. Christians group all the events that led up to this central event of history under the term "Old Testament." It was that period between the call of Abraham about 1800 years before Christ to the coming of Christ Himself. It was that patient struggle of God to show man how far he had drifted from God, how little he actually knew about either God or man himself. By His unselfish, relentless pursuit of man, God brought at least some – those who were willing to do what they knew how to do for God – to realize that their only happiness in their own lives and in their nation was to be found in obedience to God.
All About the Bible is a booklet published by the Catholic Information Service. There are more than 60 titles published by CIS to help learn the Catholic faith or just to review some things about the faith.