To keep the place of the angels in the front of our mind, some words from the Pope…
… the Feast of the three Archangels who are mentioned by name in Scripture: Michael,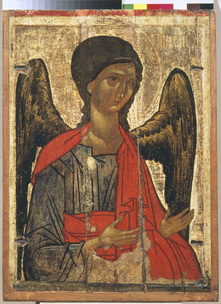 Gabriel and Raphael. This reminds us that in the ancient Church – already in the Book of Revelation – Bishops were described as "angels" of their Church, thereby expressing a close connection between the Bishop's ministry and the Angel's mission. From the Angel's task it is possible to understand the Bishop's service. But what is an Angel? Sacred Scripture and the Church's tradition enable us to discern two aspects. On the one hand, the Angel is a creature who stands before God, oriented to God with his whole being. All three names of the Archangels end with the word "El", which means "God". God is inscribed in their names, in their nature. Their true nature is existing in his sight and for him. In this very way the second aspect that characterizes Angels is also explained: they are God's messengers. They bring God to men, they open heaven and thus open earth. Precisely because they are with God, they can also be very close to man. Indeed, God is closer to each one of us than we ourselves are. The Angels speak to man of what constitutes his true being, of what in his life is so often concealed and buried. They bring him back to himself, touching him on God's behalf. In this sense, we human beings must also always return to being angels to one another – angels who turn people away from erroneous ways and direct them always, ever anew, to God. If the ancient Church called Bishops "Angels" of their Church, she meant precisely this: Bishops themselves must be men of God, they must live oriented to God. "Multum orat pro populo." (Pope Benedict XVI, Ordination of Bishops, 29 September 2007)
The Feast of the Archangels Michael, Raphael and Gabriel, patrons of those who work in radio: pray for us.